LOGISTIC PERFORMANCE WITH SHORT PAYBACK PERIOD
Modern petcoke storage
The Eurosilo system is well suited for storing all available grades of petroleum coke, including green coke and calcined coke at anode plants.  The fully enclosed Eurosilo systems are in operation at terminals, refineries and power stations around the world. Cost savings, logistic performance and solving environmental issues are the key drivers that lead to the innovative Eurosilo system.
The Eurosilo system offers safe storage  up to 100,000 m³ per unit. The material is fed from the top into a chute through which it reaches an auger frame on the petcoke surface. Screw conveyors distribute the material evenly while the auger frame rotates. The stored material is discharged at the bottom, while the screw conveyors rotate in reverse to feed petcoke into the formed core flow.
Case study Sohar plant Orpic
Oman's Oil Refineries and Petroleum Industrial Company (Orpic) had awarded Larsen & Toubro an EPC contract for petcoke handling and storage in Sohar. Following Orpic's strong commitment to safety and sustainability, Larsen & Toubro chose the Eurosilo system. Two Eurosilos of 42,000 m3 each, now streamline the logistic flow between the production of petcoke and the periodic loading of the transport ships at the nearby port. The project received the Best EPC PROJECT AWARD 2017.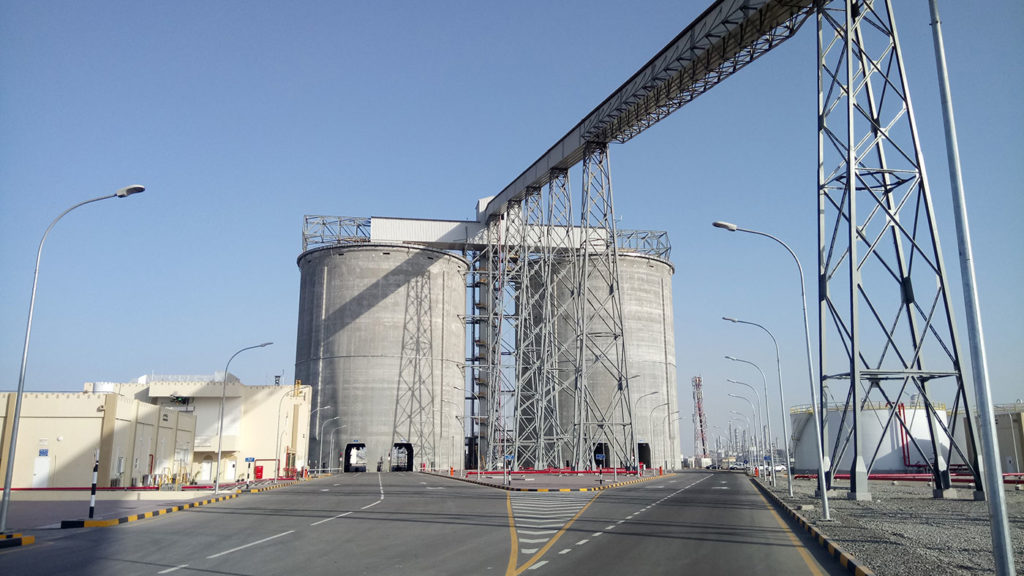 DUST AND FIRE PROTECTION
The combination of dust suppressing extraction and an extensive air tight enclosure of the silo contents eliminates the risk of hotspots, fire or even explosion. The dust suppressing infeed is achieved by keeping the petcoke contained within the telescopic loading chute. Additionally dust extraction system or water vaporizers can be installed at the inlet of the silo. At the  auger frame, close to the coke surface, and at the silo roof area, as well as in the conveyor gallery (roof and basement) CO and CH4 detection sensors are installed. Based on the gas monitoring system potential fire risks can be detected in any early stage and measurements can be taken.

Lifecycle assessment with EMA
To ensure long-term return on investment, it is vital to achieve cost-effective compliance with environmental regulations and self-imposed policies. Environmental Management Accounting (EMA) integrates environmental, operational and maintenance data into financial analysis. The integrated lifecycle assessment, as recognized by the European Community, offers a complete evaluation. Significant operational cost savings reduce the Payback Period, due to minimal maintenance and fully automated handling.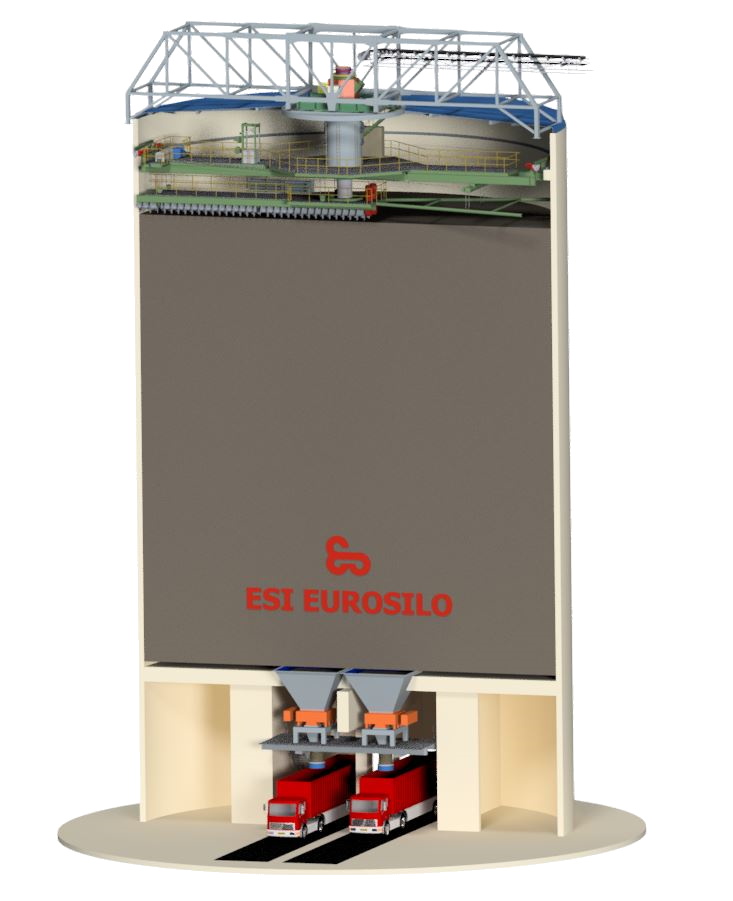 Controlled storage and reclaiming

Maximum logistics control and flexiblity

No product degradation

High availability due to minimal downtime

Safety measures according to ATEX standards

Fully automated operation using data bus method
News