First shipment to China
First shipment to China
In close cooperation with our Chinese representative New Bulks Technology, we are executing the turnkey delivery of a 25,000 ton potato starch silo for the Beidahuang Potato Group in Jiusan. After manufacturing and testing, the key-components of the silo mechanism are now ready for shipment. 
The key-components for the silo mechanism wille be shipped to the port of Dalian PR China. The containers with equipment will then be transported by truck to the final destination in Jiusan. We will supervise the critical stages in de building process, from hoisting the mechanism into the silo to testing and commissioning. The new potato starch silo is targeted to be ready by the end of 2016.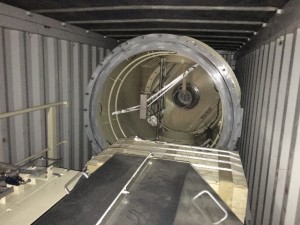 Up till now the starch was handled in bags, but due to upscaling the handling and storage will carried out more and more in bulk. The Eurosilo system allows for more logistic flexibility while offering huge savings on labor and handling that is required when working with bags. Also the conditioning of the potato starch is largely improved due to the fully enclosed storage.
One of the main reasons for the Beidahuang Group to choose ESI Eurosilo for this project was the proven concept and the unique expertise when it comes to fully automated potato starch storage.