PROTECTIVE STORAGE AND UNCOMPLICATED RECLAIMING
Protective Storage
For hygroscopic materials it is essential that moisture stays out and humidity is kept at a minimum. Fully enclosed storage, with built-in sturdy screw conveyor systems, offers the ultimate solution for materials such as minerals like salt or fertilizers like urea, ammonium or sulfate.
Enclosed storage in a Eurosilo offers a controlled environment inside and a well-protected environment outside. Hygroscopic products can be stored for a longer period thanks to our slotted column system for uncomplicated reclaiming. During the discharge process, the overhead bridge and suspended auger frame rotate, while two augers move the material towards the center and push it into the slots of the slotted column. This open channel in the stored mass ensures that the product freely descents towards an extracting device at the bottom of the silo. The Eurosilo system is a proven solution for Ammonium Sulfate, Potash and Common Salt. A recent project of fertilizer storage is the 40,000m3 Ammonium Sulfate silo for the Capro Cooperation in South-Korea.
Innovative storage solution
Compared to the conventional A-frame storage shed or a bottom discharge silo, the Eurosilo system combines many advantages. Instead of a separate, storage and load out facility – needing operators, power shovels and transport – there is only one highly automated solution. Not only it will reduce the required space to a third, it will also minimize the necessary headcount and eliminate the exposure of workers to health hazardous materials. Compared to bottom discharge silos, equipped with a plough feeder system, our system significantly increases the storage period without any block ups.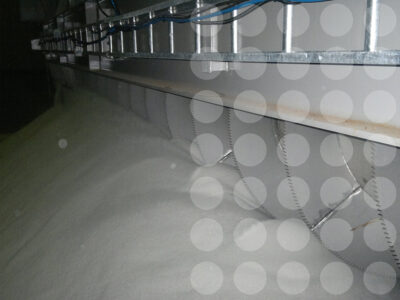 Download our whitepaper about fertilizer storage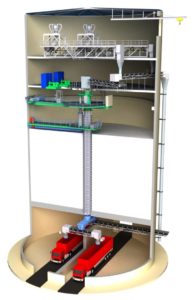 Controlled storage and reclaiming

High automation capacity minimizes operating costs
Compliant with severe environmental regulations
High safety standards for health hazardous materials
Maximum logistic control and flexibility
High availability due to minimal downtime