Upgrade potato and pea starch silo Emsland-Stärke Emlichheim
Upgrade potato and pea starch silo Emsland-Stärke Emlichheim
At the Emsland-Stärke in Emlichheim, Germany, ESI has finished the upgrade of a potato and pea starch silo built by Weibull in the early '70s. "Combining our technology with the Weibull silo and the requested infeed/output system from a previous supplier was quite a challenge. But now this silo is compliant with today's requirements and ready for operation over the coming decades," said Maarten Appelman, the After Sales Manager at ESI.
Global supplier for food processing industry
Emsland-Stärke Emlichheim is the main production facility, as well as the headquarters, of the globally operating Emsland Group. The Emsland Group develops, produces and markets a wide portfolio of products derived from potatoes and peas, including starch products, potato flakes and granules, as well as proteins and fibers. With a history of almost a hundred years, one of their first potato starch silos needed a thorough upgrade, and all changes needed to be strictly ATEX compliant.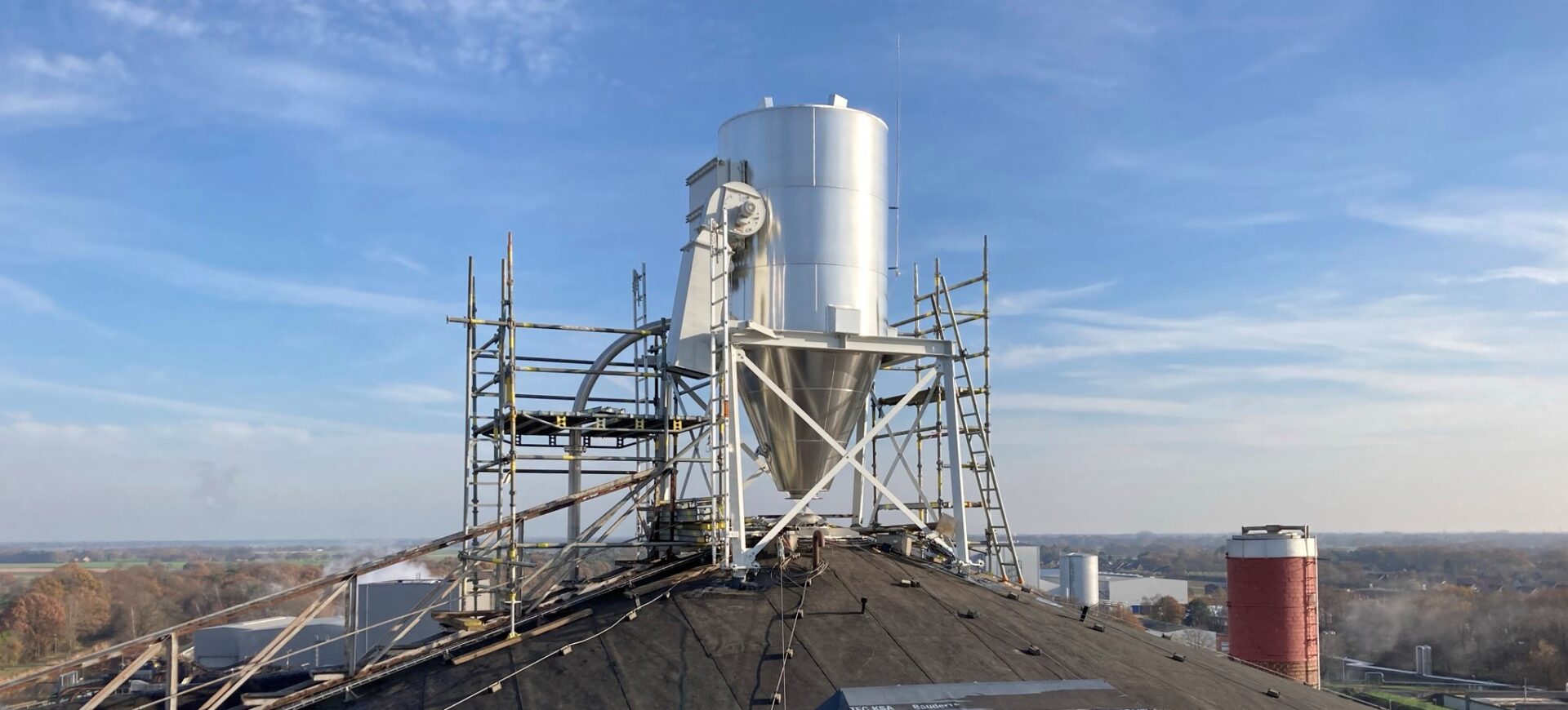 Feasibility first
Appelman explained, "As most Weibull silos are custom made with technology from almost 50 years ago, we first started with a feasibility study. An assessment of technical documentation revealed there were almost no drawings for us to work with. So the silo was vacuumed completely clean in order for us to perform extensive 3D scanning. That way we could make a computerized model, which enabled us to work on the engineering of suitable solutions. The outcome of our findings led to a complete and accurate proposal for the upgrade, giving the customer a good insight into different steps and stages."
Integrating legacy systems
Solving legacy issues resulted in a number challenges, one of them being the use of a cyclone system to separate air and starch in the fluidized bulk material. Next to that, the PLC was not part of the rotating bridge, as is the case with the ESI system. Instead, the PLC had a fixed position on the roof of the silo. Appelman went on to explain, "We also process a lot more control data, so the old interface with the PLC wasn't sufficient. Therefore, we developed a Bluetooth connection with the bridge."
A working solution
After final approval, the project began in 2020 and was finished by Christmas of that same year. The Emsland-Stärke project presented ESI with a number of challenges, making it all the more satisfying to be able to say that we have been able to fulfill the customer's requirements. At the end of the day, a working solution is what we aim for.
Maarten Appelman,
After Sales Manager